Digital and Traditional Signage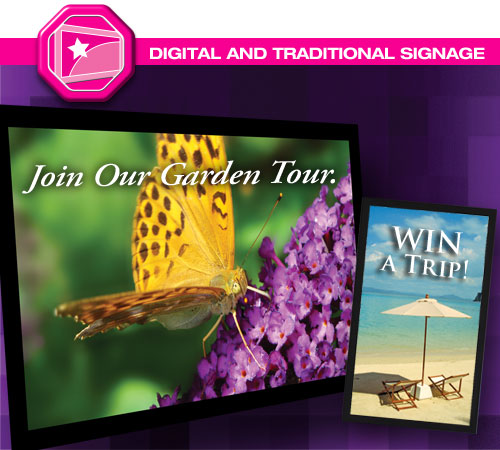 iPoster
The iPoster is another innovative product from Presslink that will revolutionized the business environment by getting rid of the use of old-fashioned posters. It provides multiple functions such as decorating, messaging, advertising and branding.
The iPoster is simply a high definition LCD screen, providing automatic slideshow up to 4,000 pre-scheduled, high impact graphics with attractive special effects. A built-in USB port makes changing the content easy, while a RJ-45 Ethernet connection is available for large scale implementations. Slideshow builder software with graphical user interface is included and it is FREE with any iPoster purchase.
The iPoster is not only simple to use, but also rich with applications.
The iPoster is a desired advertising and branding solution for office building lobbies, banks, hotels, airports, car dealers, retail environment, restaurants and bars, corporate board rooms, movie theatre, hospitals, schools, tradeshow and events.
Features:
• High Definition, multiple photo, image and graphic presentation with synchronized audio
• Stylish design complements any retail, services, or marketing environment
• Quick installation and set-up; Streamlined operation lets you easily edit and manage content
• Self-monitoring operation with auto On/Off Timer which can be set for daily or weekly intervals
• No need for a dedicated computer and broadband connection; Eliminates the need for outside content providing and delivery
• 2GB of built-in memory is capable of hosting thousands of high definition pictures and images (Content downloading available through GPRS/Wi-Fi/3G [optional])
• Built for commercial 24/7 use